Advertising
New research results revealed by global advertising technology and services company AudienceScience® show that only 27% of advertisers feel that having the most talented media agency will contribute to the success of their digital advertising campaigns, while 46% of overall advertisers and 56% of Mega advertisers (spend £40m+) believe that a deeper in-house knowledge of digital advertising technology will be the most important factor in bringing them digital advertising success.
Indeed, 43% of advertisers plan on bringing more responsibility in-house for digital planning within the next 12 months. [more…]
Just in - Wyevale Garden Centres has launched a Christmas campaign to create awareness of the breadth of their Christmas product offering. From gifts to real trees, decorations and foodie delights - everything for an enchanting Christmas.
The campaign proposition and creative, which has been developed by direct response and relationship marketing agency WDMP, features just under 5 million door drop brochures being distributed within a 30 minute driving distance of the 45 best performing garden centres, accompanied by direct mail packs sent to all members of its loyalty programme,@GardeningClub 'Gardening Club'. [more…]
Brand owners and agencies planning on-pack offers in 2015 need to be aware that their campaigns may be in breach of a European patent which could cost them thousands.

The patent, originally issued to the now extinct online reward scheme Beenz.com, covers the use of codes printed on promotional packs and till receipts or vouchers that is then linked to the ward of a prize or reward.

If the consumer  enters the codes onto a website or via text or post, and once validated, they then have the chance to win a prize or reward this is likely to be a breach of the patent regardless of whether it is an instant win, prize draw or competition mechanic.

Contact abi@promoveritas.com for more details.
Greenwich Design has created a new brand identity for Asprey Healthcare, provider of residential care for individuals suffering from dementia, which reflects the company's commitment to providing the highest level of care and support to its residents and their families.
WestJet Christmas Miracle: Spirit of Giving  : How to brand your company with powerful emotions
Another marketing home run by WestJet for a Christmas Miracle on youtube. Whether you agree with the strategy or not, it is very powerful to build goodwill for your company. It's good for their brand, image and people who volunteer for this Christmas Miracle on air ;-)!
The Hotcow articles from theMarketingblog

Hotcow is a non-traditional creative agency that specialises in experiential marketing that goes viral. Our campaigns generate buzz through crowd participation, PR and content sharing.  http://www.hotcow.co.uk/

Interested in the latest news, insights and latest thinking on experiential marketing? Then 'Hotcow's Daily News' is a must read. Sign up to get our monthly newsletter or subscribe to our social sites to be kept informed. - See more at: http://www.hotcow.co.uk/#blog

Contact Hotcow on 0207 5030442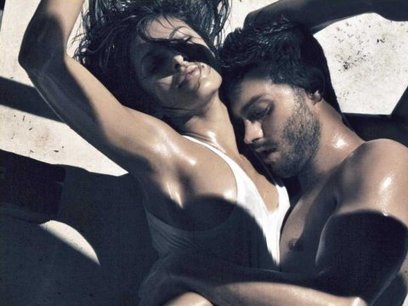 No matter how far along humanity claims to be, every guerilla marketer knows that sex still sells. The trick, of course, is to be a bit clever in how sexua
The online ad, Memorable Guest, for Unilever's Maille mustard @MailleUK appears to be an ordinary, if upmarket, dinner party scene. Ho hum. We get that Maille is a classy mustard. This is going to be a bore – one woman talking about her holiday to the man beside her… But wait. Did she just say, "…The sun has a dramatic effect on Gerard's bindo, you see…"

This ad is 100% Adam & Eve, the agency that gave the world, "Sorry I Spent it on Myself," last Christmas. You could not possibly have expected dreary, could you?
Purpose, one of the UK's leading brand consultancies, has created the visual identity for Guy Bourdin's latest exhibition, Guy Bourdin: Image Maker, which has now launched at Somerset House.

Purpose,@Purpose_London together with Somerset House, has created and designed all supporting material for the exhibition including the graphic design, the book and marketing collateral.