Business
2012 is Northern Ireland's year "to shine and emerge as an international must-see tourism destination", according to Susie McCullough, Director of Marketing and Events of the Northern Ireland Tourist Board.
Speaking at a NITB briefing event to update on its 'ni2012: Our Time Our Place' campaign, Ms McCullough urged everyone to play their part in making this a year to remember for Northern Ireland.
 Facebook and social media are key items in a marketer's tool belt in this digital age. Brands and businesses are coming up with creative and [more…]
 

A tongue-in-cheek ad campaign for video conferencing firm Powwownow –  has been attacked with graffiti
A digital company has been awarded a £475,000 investment of Finance from Business North East Technology Fund and a group of private angel investors.
MymCart [more…]
Here's a new idea...The Bristol Pound is a secure local currency designed to support Bristol's independent businesses, strengthen the local economy, keep our high streets [more…]
You've probably heard of flash mobs -- groups of people who use social media to plan to appear in person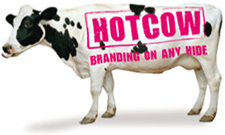 Where does your attention go when you're travelling from A-B? People rarely look up or down when they are on the move. So how is your message being seen? [more…]