Entertainment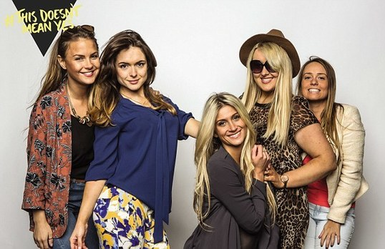 The #thisdoesntmeanyes campaign took photos of 200 women across London in a range of outfits with the aim of stamping out the myth that what a woman wears can be blamed for her attack.
Presenting a new collaboration between PETA and the world's first challenge based app, FightMe, to launch an online anti fur protest.
"Without question, the greatest invention in the history of mankind is beer. Oh, I grant you that the wheel was also a fine invention, but the wheel does not go nearly as well with pizza."
~ Dave Barry

Many thanks to Dewald P. in Perth, Western Australia for this series of gems.
A Welshman, an Englishman and an Irishman were being chased by Farmer Giles with a shotgun. After 10 minutes of running they spotted a barn and ran inside.

Once inside they each hid in a old sack against the barn wall. The farmer went into the barn but did not see where they went, he was about to turn back when he saw three suspicious looking sacks. He walked forward and prodded the first sack with his gun. The Englishman inside said... ''Meow'.'
Amanda Lamb stars in the new fragrance campaign for Air Wick - She is captured in the plush shoot by Vogue photographer Willy Camden
Amanda Lamb partners with Air Wick for new Life Scents launch.  Stunning fragrance inspired shots celebrate the first constantly changing fragrance
Following consumer research which reveals 63% of people want a home fragrance that offers more than one scent,1 the new Air Wick Life Scents range delivers a constantly-changing, multi-layered scent sensation, creating an authentic true to life scent experience and helping to turn a house into a home.
Train station product sampling works. Let's start with some statistics. Did you know that three million of us use the train every day?

Or to put it another way, every year nearly twice as many people (123 million) use Liverpool Street Station than Heathrow Airport; and that number is rising all the time.

Whether it's for work or leisure, that's a lot of potential customers, which hasn't gone unnoticed by experiential marketers.

Thanks to Digital Business Academy for this ..  What are the best startup ideas for digital businesses? If you're looking for ideas to start an online business, it pays to explore how technology is disrupting the way we work, play, live and interact at pace.