Film
Company aims to successfully predict third successive Oscar winner using web browsing data
The company which has successfully predicted the Best Picture Oscar winner in both 2013 and 2014 – by analysing web surfing habits of people with similar demographics to Oscar voters – today released its prediction ahead of Sunday's 87th Academy Awards. [more…]
Four guys have been going on the same golf trip for many years. This year,  Ralph's wife puts her foot down and tells him he isn't going. And thus he calls his buddies and tells them the bad news.

Two days later, the 3 other guys arrive at the resort to begin their  yearly golf getaway. And of all things, they find Ralph sitting there with  his clubs already set up on his cart. "Dang Ralphie boy, how did you talk  your missus into letting you go?" 
Bondage is clearly big business.  Despite some unflinching viciousness from the majority of critics, Fifty Shades of Grey destroyed a number of box office records in its opening weekend.
The film was always expected to draw in big crowds. E.L James' three-part novel sold 100m copies and Odeon sold one ticket of the movie every seven seconds ahead of its release. Yet with its risque subject matter few would have foreseen the biggest opening weekend of all time for both a film defined as romantic drama and film released in February. [more…]
Filming for the 007 blockbuster, once again starring Daniel Craig, has been taking place in snowy Austria.
Associate producer Gregg Wilson said: "We have to deliver an amazing sequence and this is going to be one of the major action sequences of the movie. "A jewel in the crown so to speak.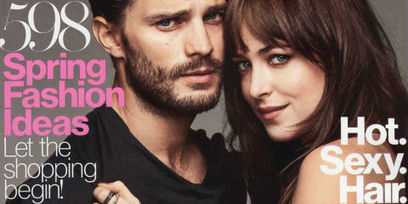 Watch the New Super Bowl Ad for "Fifty Shades of Grey" 
Let's celebrate the Oscars with a supercut of all of 2015's nominated films. In this video, there are inevitable winners –seriously, bet on Whiplash's J.K. Simmons– fan favourites, and surprise inclusions.Congratulations to all the nominees, and good luck in February! [more…]