Lead story
A guy walks into a bar with a pet alligator by his side. He puts the alligator up on the bar and turns to the astonished patrons.
"I'll make you a deal. I'll open this alligator's mouth and place my genitals inside. Then the gator will close his mouth for one minute. He'll then open his mouth, and I'll remove my unit unscathed. In return for witnessing this spectacle, each of you will buy me a drink."
I always believed that you cannot take it with you.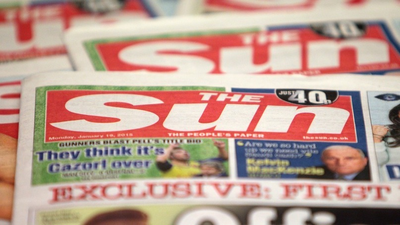 No more Page Three: The Sun newspaper drops topless women pics after 44 years 
LONDON — They've been part of the British tabloid for nearly half a century, but this week they're on the way out: pictures of topless women will no longer be published in The Sun from Friday.
Small firms are being 'plagued' by a poor payment culture, with some respected household brand names 'abusing' their suppliers, it was claimed last night.

The accusations came as it emerged that US consumer giant Heinz has more than doubled the length of time it is making small British suppliers wait for bills to be settled.Leading lobby group the Federation of Small Businesses said large companies were being 'tarnished' by their treatment of small suppliers and that their behaviour is damaging the reputation of business as a whole.
A psychiatrist was conducting a group therapy session with five young mothers and their small children.

"You all have obsessions," he observed.
To the first mother, Mary, he said:
"You are obsessed with eating. You've even named your daughter Candy."
A magician on a cruise ship was performing one night when a parrot walked onstage and squawked, "It's in his sleeve!"
The magician chased the bird away.
The next night, the magician was performing another trick when the parrot walked onstage and declared, "It's in his pocket!"
During his next performance, he saw the parrot in the crowd, but before the parrot could ruin the magic trick, the boat crashed into a rock and sank.