News you can use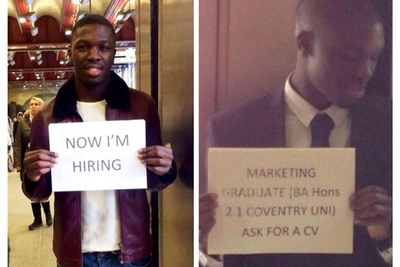 Man who held up 'hire me' sign at Waterloo station returns a year later with 'I'm hiring' sign
A British man who stood at Waterloo station with a sign asking for a job has returned a year later with a sign offering to hire people.
Mother Superior called a young novice into her office one evening. ''Now dear, I want you to give the Father his nightly bath. You are to do as he tells you and be sure to report to me in the morning,'' she said.
The novice agreed to do as she was told and went to prepare the Father's bath. Doing as she was told, the novice washed the Father's hair and back. While she was doing this the Father told the novice that he had the key to heaven. The Father told her that if his key to heaven fit her gate, she would be saved.
London: January 20, 2015 - In the long-running debate over suite versus best-of-breed solutions, marketers are divided down the middle, according to an independent research study released today. But regardless of how they build their technology "stacks," marketers say neither model solves the key challenge of how to gather, merge and activate their cross-channel data.
Founders create online inspiration hub for leaders and aspiring leaders

Creative Business Leaders launches today, founded by Gordon Christiansen and Susanna Simpson, to provide an online community for leaders and aspiring leaders in the creative industries. Interviews with inspiring individuals who share their career stories, success and failures and plans for the future are hosted on creativebusinessleaders.com.

If you're a creative business leader who is interested in joining this free community or sharing your wisdom on the site – head over to creativebusinessleaders.com to find out more
Jacob's Creek has unveiled the full 'Made by' film which is part of its sponsorship of the Australian Open tennis, featuring Novak Djokovic.
The world number one was unveiled as the new face of the brand's annual push, which has featured Andre Agassi for the last two years, in the campaign by Cummins & Partners.