Regional
How you can target mums this summer?

Talk to Mums create fun and interactive ways for brands to talk to mums offline and online.

Our

"60 Days of Summer Live Sampling

" campaign talks to ABC1 mums across inner and outer London regions.

We tap into our network of over

2 million mums

and invite them to sample or experience your brand from the Talk to Mums experiential vehicle.
Getting your product sample into the hands of sports fans could prove to be super-profitable.

Wimbledon; Royal Ascot; the Rugby World Cup. We are a sports-mad nation and these are just a few of the large scale sporting events being held in the UK this year.

Between them, they will attract over 1 million fans, as well as fierce competition amongst brands who all want the opportunity to get up close and personal with their target market.
Do you ever wonder how best to distribute your product samples?

Modern technology has made it easy to avoid advertisements – we are able to skip through ads when watching pre-recorded shows, and download free software to block most online ads.

This presents a huge problem for brands that invest heavily in traditional forms of marketing.
Creative space at Brand Union wows British Council for Offices judges.
WPP owned, global brand strategy and design agency, Brand Union has been awarded a prestigious British Council for Offices accolade for their new creative space in Clerkenwell. Brand Union and architects BDG, which designed the offices at 6 Brewhouse Yard, were awarded the Best Fit-Out of Workplace London & South East Award, which recognises the highest quality of work environments.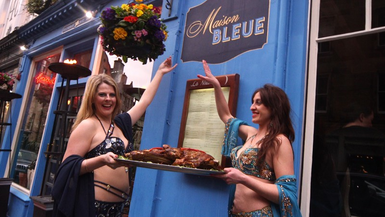 Exotic belly dancers unveil new "Feast" with 24 hour waiting-list.
It's great to see that there is still someone with real enthusiasm who is trying to be innovative and different. (editor). Who else loves belly dancers - I certainly do?

JCDecaux Airport and Heathrow have announced that Microsoft is the launch partner on the Towers@T5 – the largest digital airport opportunity in Europe – located at Heathrow , Heathrow's busiest airport terminal.