Scotland
Three friends married women from different parts of the world.....

The first man married a Greek girl. He told her that she was to do the dishes and house cleaning. It took a couple of days, but on the third day he came home to see a clean house and dishes washed and put away....
It's more common for men to work from home than women.
There are now over 4.2 million people across the UK working from home, according to the TUC, which is up by more than 800,000 since 2005.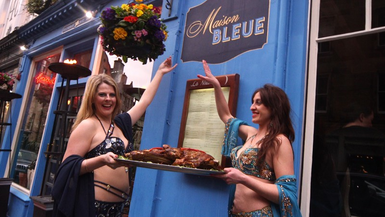 Exotic belly dancers unveil new "Feast" with 24 hour waiting-list.
It's great to see that there is still someone with real enthusiasm who is trying to be innovative and different. (editor). Who else loves belly dancers - I certainly do?
Time Out launches in Edinburgh after the successful launch of Time Out Manchester earlier this month / UI Centr... http://t.co/Sxz3KUDcbl

— Will Corry (@slievemore) October 30, 2014
It's a swarm of Time Outs : After the successful launch of Time Out Manchester earlier this month, Edinburgh is the second of six cities in the nationwide roll-out. This is followed by the launches of Time Out Leeds and Glasgow in November and Bristol and Birmingham in early 2015. Each city will have its own editor, who will curate content from local experts through the launch of an extensive Time Out blogger network.
"Well, if its matching body-con dresses and awkward catwalk behaviour then Ayrshire travel agency Thorne Travel are the chap(ette)s for you.
These gloom-busting wonder women (and man) walk round their local town of Kilwinning sending people on cruises, transforming a random woman into a bride and sending a sulking child to Disneyland."
Want to grab the attention of the Scottish public whilst out canvassing to see which way they plan to vote?

Well look no further as Promotional Products Week (PPW) has created a 'referendum voting highlighter' that will allow the Scottish public to show with ease which way they plan to cast their vote and make political history.