Scotland
Labour in crisis - " They could slip to 3rd in Scotland and Livingstone fights on"
Latest News : Jeremy Corbyn has vowed to continue talking to terrorist organisations Hamas and Hezbollah, in comments that threaten to further destabilise his leadership ahead of the local elections.
Caledonia Best, official beer of Scottish Rugby, has appointed Edinburgh agency Guy & Co to develop an integrated marketing campaign to run throughout the 2016 RBS 6 Nations Championship and beyond.
Independent assessment shows 'St Andrews effect' increased visitor numbers.

The 2015 Open Championship in St Andrews delivered £140 million of economic benefit to Scotland - the largest amount ever achieved by a golf event in the United Kingdom or Ireland, according to an independent economic impact assessment.

The study, commissioned by the R&A, shows spending by visitors to Scotland for the tournament generated £88 million – nearly double the £47.5 million in visitor impact achieved in 2010 when the event was last held at the Old Course.
Three friends married women from different parts of the world.....

The first man married a Greek girl. He told her that she was to do the dishes and house cleaning. It took a couple of days, but on the third day he came home to see a clean house and dishes washed and put away....
It's more common for men to work from home than women.
There are now over 4.2 million people across the UK working from home, according to the TUC, which is up by more than 800,000 since 2005.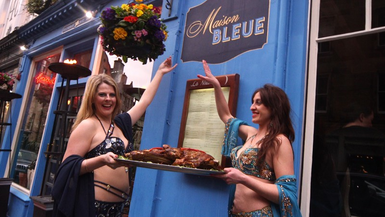 Exotic belly dancers unveil new "Feast" with 24 hour waiting-list.
It's great to see that there is still someone with real enthusiasm who is trying to be innovative and different. (editor). Who else loves belly dancers - I certainly do?