Animal Planet Bookshelf for children's interactive apps are launched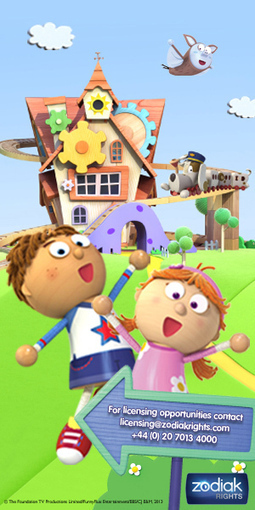 Discovery Enterprises International (DEI) and
LivoBooks
today launch their new and innovative 
Animal Planet Bookshelf
for children's interactive apps – available in 
Apple's online App Store
in the UK for iOS 5 or higher.
The Animal Planet Bookshelf offers stories and activities featuring fascinating animals from around the world.  The Bookshelf is free and provides consumers with a digital library of interactive content that will be constantly updated with new Animal Planet stories and activities.
Available now in the Animal Planet Bookshelf is the engaging Meerkats storytelling and activity app, which allows children to learn and have fun by interacting with Meerkats living in the Kalahari Desert using touchscreen technology developed exclusively by LivoBooks.
Also included in the Animal Planet Bookshelf is the fun-filled Activity Book, providing children with an opportunity to learn about Earth's fascinating animals and underwater sea creatures.  It includes fun and educational activities for children, such as puzzles, memory games and colouring pages, all with touchscreen interactive features.
The Animal Planet Bookshelf is free to download and provides shortcuts for sampling and buying storytelling and activity apps.  Each app has a free sample version for a limited time.  The Meerkats app is £2.49 and the Activity Book is £1.49 for the full version.  In future, the complete app will be available for purchase.
All apps included in the Animal Planet Bookshelf feature easy and intuitive navigation.  They combine educational content with interactivity to stimulate creativity and learning while contributing to the development of motor skills and logical thinking.
The second app to launch in Animal Planet Bookshelf will be Sharks at the end of June 2013, introducing children to this ancient species.  They will learn exciting facts and have fun while feeding sharks, listening to their unique sounds, completing quizzes, building puzzles and navigating mazes, all with LivoBooks' unique touchscreen interactivity.  The full Sharks app will be priced at £2.49.
The Animal Planet Bookshelf launches in Latin America and the UK.  Apps will be available in English, Spanish and Portuguese.  A second roll-out in Russian, Italian and German is scheduled for late summer.  Negotiations are also underway to launch the Animal Planet Bookshelf for the Asia Pacific region.
Tags: Animal Planet Bookshelf, Apple's online App Store, children's interactive apps, Discovery Enterprises International, Licensing Industry, LivoBooks, Meerkats living in the Kalahari Desert Print article