Excited about the agenda? check. Booked hotel? check. booked flight? check. Yep, I'm ready for #SMXLondon
by Will Corry on April 22, 2014 in Events, Events & Awards, Lead Article, Search Marketing
We hope you have all enjoyed your Easter breaks (if you got one) – three weeks until #SMXLondon 2014…who's excited?! Chelsea Football Club   13 & 14 May, 2014
Search Was Largest Digital Channel In 2013 ($18.4B), Mobile Fastest Growing ($7.1B)

read full story

---
..
WHAT'S HOT AT SMX LONDON
The Periodic Table Of SEO Ranking Factors: 2014 Edition
(#smx #11A)
We'll kick off the SEO track with a deep-dive examination of search ranking factors that are influencing results. What's on the rise; whats on the decline; what still works? Our panelists parse the data and focus on the key elements that deliver maximum SEO success.
Moderator:
Danny Sullivan
Founding Editor,
Search Engine Land 
@dannysullivan
Leonhard Hennig
Chief Data Scientist,
Searchmetrics

Grant Simmons
Sr. Director,
The Search Agency 
@simmonet
Janaya Wilkins
SEO Consultant,
Ayima

---
Top Social Tactics For The Search Marketer (#smx #21A)
Integrating your search and social media efforts can dramatically improve your marketing results, but where do you start? Speakers in this session will share their favorite authority-building social tips for search, including using Facebook, Google+, Twitter and other social media platforms such as Pinterest, Vine and more.
Moderator:
Kevin Gibbons
UK Managing Director,
BlueGlass Interactive
@kevgibbo
Alan K'necht,
Partner: Analytics & Social,
Digital Always Media Inc
@aknecht

Jon Quinton
UK Agency Manager,
SEOgadget
@JonQuinton1

Karianne Stinson
Director,
Mediabrands Publishing
@Karianne

If you don't think these are the hottest topics check out the rest of the programme and tell us which one you think will turn the heat up.
---
| | |
| --- | --- |
| Highlights from @SMX_London | |
The SMX London team curate the best bits from the web and distribute via our daily tweets. Here are a selection of a few recent stories covered.
Google's Matt Cutts Lobbying To Reward Secure Sites With Better Rankings




Read more…
Twitter Quietly Adds Search For Timelines & Lists




Read more…
Microsoft's Cortana Assistant Personalization Comes To Bing On The Web


Read more…
Are You Building Links Or Building A Business?




Read more…
| | | | | | |
| --- | --- | --- | --- | --- | --- |
| | | | | | |
---
| | |
| --- | --- |
| | Our industry friends who will help moderate the conference |

Kevin Gibbons, Kelvin Newman, Brad Geddes, Matt Van Wagner
Andy Atkins-Kruegar, Christine Churchill, Mikkel deMib Svendsen, Bas van den Beld
..
RISING STARS OF SMX LONDON
Janaya Wilkins
SEO Consultant
Ayima

Janaya is an SEO at Ayima, an award-winning specialist Search Marketing Consultancy, which delivers data-driven SEO, Analytics and Design / Development for its portfolio of enterprise clients.

Janaya works in a team of 20 highly-skilled technical SEO experts who manage accounts across a vast range of sectors, such as telecoms, travel, retail, gaming, and financial services. With a background in IT and Data Analytics, Janaya has 10 years experience in Marketing and holds a MA in Marketing (Hons). Janaya has developed and implemented SEO strategies for a number of major blue chip organisations.

In her spare time Janaya enjoys yoga, netball, snowboarding, and travelling Europe.
Stephanie Beadell
Content Marketing
& PR
BuzzStream
@stephbeadell

Stephanie specializes in data analysis and digital public relations and is the acting Director of Content at BuzzStream. Before joining BuzzStream, she ran outreach and digital PR at SEER Interactive, where she worked to earn clients coverage on sites like VentureBeat and TIME.

Earlier in her career, she ran online and offline marketing at Rooms and Rest Furniture and media relations at HalloweenCostumes.com. Stephanie holds an M.S. Market Research from Boston University and a B.A.

Advertising from the University of Minnesota. She regularly speaks to SMB groups how they can leverage online marketing and social media to grow their businesses.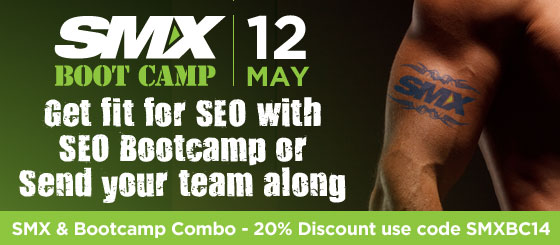 Tags: @DannySullivan, @sengineland, @slievemore, @SMXLondon, Andy Atkins-Kruegar, Brad Geddes, Building Business Capability, Chelsea Football Club, Chris Sherman, Conversion Conference, Danny Sullivan, Digital Analytics Hub, eMetrics Summit, Jackie Bissell, Kelvin Newman, Kevin Gibbons, marketers, Matt Van Wagner, Nick Paul, paid search advertising, Predictive Analytics World, Rising Media, search analytics, Search Engine Land, search engine marketers, search engines, search marketing conference, Search Marketing Expo, SEO, SMX 2014, SMX London 2014, SMX London 2o14, social media marketing, web users, webmasters, Webmaster's Guide Print article