Fifty Shades of Grey
Bondage is clearly big business.  Despite some unflinching viciousness from the majority of critics, Fifty Shades of Grey destroyed a number of box office records in its opening weekend.
The film was always expected to draw in big crowds. E.L James' three-part novel sold 100m copies and Odeon sold one ticket of the movie every seven seconds ahead of its release. Yet with its risque subject matter few would have foreseen the biggest opening weekend of all time for both a film defined as romantic drama and film released in February. [more…]
You'll get to see Jamie Dornan's sexy side in Fifty Shades of Grey this weekend, but when the man who plays Christian Grey stopped by The Tonight Show, he showed his goofy side.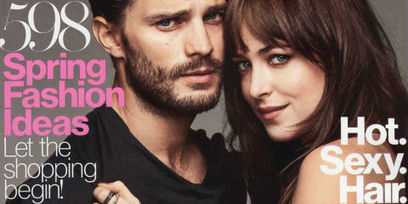 Watch the New Super Bowl Ad for "Fifty Shades of Grey" 
British artist-turned-movie director Sam Taylor-Johnson is to direct the film adaption of erotic bestseller Fifty Shades of Grey. EL James, the author of the racy trilogy of books, made the announcement on Twitter on Wednesday night. James wrote: "I'm delighted & thrilled to let you guys know that Sam Taylor-Johnson has agreed to direct the film of Fifty Shades of Grey."
Four guys have been going to the same fishing trip for many years.
Two days before the group is to leave, Ron's wife puts her foot down and tells him he isn't going.
Ron's mates are very upset that he can't go, but what can they do.
Two days later the three mates get to the camping site only to find Ron sitting there with a tent set up, firewood gathered, and dinner cooking on the fire. Thanks to Jenny H for this one. [more…]
As always the Irish have found the funny side of something.  Here's a few classics from the Irish take on Fifty Shades of Grey:
'Give it to me, give it to me', he roared aggressively. Some days Mary hated working at Ulster Bank.