Liverpool
For the first time in its history, London Fashion Week (LFW) will be screened to more than 35 million people across the country in a new collaboration between the British Fashion Council and Ocean Group.
In a UK media first, exclusive footage from the shows of top designers including Temperley, Ashish and Osman will be screened across 60 Ocean and Signature Outdoor digital out of home sites in Birmingham, Bristol, Edinburgh, Glasgow, Leeds, Liverpool, Manchester and Newcastle a nd on four locations in London including Canary Wharf, Holland Park roundabout, Two Towers West and Westfield London.
Twitter and TOPSHOP will showcase emerging fashion trends as they happen live from London Fashion Week in a unique collaboration broadcast across eight Ocean screens in six UK cities.

Listening to the industry and influencers as they Tweet at and around shows, Twitter and TOPSHOP will highlight next season's trends and communicate them via Ocean's The Grid network of screens, online and in store. The campaign, created by Twitter UK for TOPSHOP, breaks on February 20 across Ocean's The Grid network in London, Birmingham, Leeds, Manchester, Liverpool and Glasgow.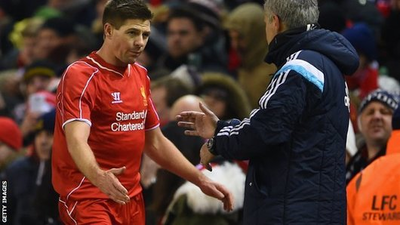 Mourinho jokes: 'I'll sign Gerrard' 
Chelsea manager Jose Mourinho jokes about signing Liverpool midfielder Steven Gerrard on loan.
A petition has been signed by thousands in order to stop Liverpool Council from granting planning permission to a popular music venue…
The decision to grant planning permission to convert Princess Building for a different use has been met with criticism by the public. Over 2,600 people signed a petition asking Liverpool Council to deny the relevant planning permission. 
American broadcasters NBC has pulled off another brilliant marketing campaign before the start of the 2013-14 Premier League season this weekend.
NBC, who have bought the broadcasting rights to show the EPL in America this season, have released a new fleet of London cabs onto the streets of New York all bigging up start of the soccer campaign. [more…]
HSBC and the Prince's Trust have announced a collaboration that will see disadvantaged young people involved in the Prince's Trust Fairbridge programme benefit from exclusive rugby coaching sessions.
As the countdown continues to the start of the 2013 British & Irish Lions Tour to Australia; HSBC, the Principal Partner of The British & Irish Lions, and The Prince's Trust are holding coaching days with rugby ambassadors for young people on the Fairbridge programme across the UK.
A video from the launch is available: http://bit.ly/XNqENY [more…]
BBC pundit Alan Hansen was subjected to ridicule on social networking sites after appearing to predict three teams from the same group would make the Euro 2012 semi-finals.
The former Liverpool star, who reportedly earned £40,000 for each episode of Match of the Day last season, listed Spain, Germany, the Netherlands and Portugal as his semi-final tips for the tournament in an article posted on the BBC's website. [more…]