multichannel
Mark Pigou writes ..
We are the trade title for professionals who support multichannel retail. Experts in supply chain, operations, logistics, warehousing, customer support and related services, how can we together 'fulfil the multichannel promise'.
Do you want to be clued up on the latest ecommerce, multichannel, social media and mobile debates within the fashion industry?   On Friday 15th May AW Fashion Vertical Specialist, Susie Whitby will be on hand from 11-12 to answer any, and all of your fashion questions.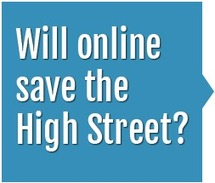 Internet Retailing Expo - 25/26 March 2015
Turning the best ideas in multichannel into action. Hear from the best in multichannel and drive your business forward. IRX put a year's worth of learning, ideas and solutions at your disposal, providing an experience for you that is the most efficient way to spend two days.

It's a great time to be a shopper, and it's getting better all the time. Never before has it been so easy to find and buy the retail products consumers want to have.
Thanks to the rise of digital, and in particular m-commerce, consumers can check and compare product details and prices in just a few clicks of a device, wherever they are. When they've found the item they want, it's just a few keystrokes more to buy and arrange convenient delivery.
IRC 2014 Find out more at www.internetretailingconference.com to be held at the Novotel, Hammersmith, London on October 14, breaks the theme of Re-foundationing into three key themes: Tide, Time and Place.
In an opinion article from Ben Gale, Vice President Sales, The Logic Group he looks at the top retail technology trends that will play out in 2014
According to Ben the top retail technology drivers this year will be: .....
1. Smartphones continuing to transform the retail landscape
2. MPOS – From Mobile Point of Sale to Mobile Point of Service
3. Convergence of payments and loyalty
4. Striking a balance between convenience and security will continue to be a top priority for retailer
5 Contactless payments
6. The role of data and insights
7. Individualised service will be a differentiator
8. Retailers will have the opportunity to cater to a growing global audience
British Gas, BBC Worldwide join ad:tech London headline programme
Click here to register for the free exhibition or industry conference

Will Orr, British Gas' Marketing and Commercial director (Top Right) will be joined by ex-Aegis Blue Rubicon Chief Innovation Officer Craig Le Grice (Left)  in a discussion on how the energy giant is investing in insight and digital technology to drive marketing and product development.
Matthew Appleby, Marketing Manager at dmg events writes

It's less than 3 weeks until ad : tech London brings together the industry's most innovative marketers, digital strategists, commercial heavyweights, creatives, technology innovators and investors on 11-12 September at The National Hall, Olympia.