social
[more…]
Ian Jindal, Editor in Chief and Co-Founder of InternetRetailing writes ...

Fans of the actor Tom Cruise are probably familiar with the phrase 'show me the money' – a totemic line from the 1996 movie Jerry Maguire.
Turn have released its Advertising Intelligence Index report, revealing data-driven marketing trends worldwide from April 2014 through March 2015, compared with the same period last year – April 2013 through March 2014.
Overall, the last year shows significant growth in the programmatic marketplace thanks to broader adoption of programmatic buying on all channels around the globe. As brands and agencies embrace programmatic, the landscape for mobile and video has seen increased spending and growing competition as EMEA and APAC markets continue to mature towards stable levels of high competition. [more…]
M&C Saatchi Unveils 'The Hare and the Tortoise' for TfL -  TfL encourages young teens to 'Think Slow' near busy London roads promoting road safety –

M&C Saatchi has unveiled an integrated campaign for Transport for London targeting young teenagers aged 11 – 14 to encourage responsible behaviour and persuade them to give their full attention to crossing roads.  Watch the Video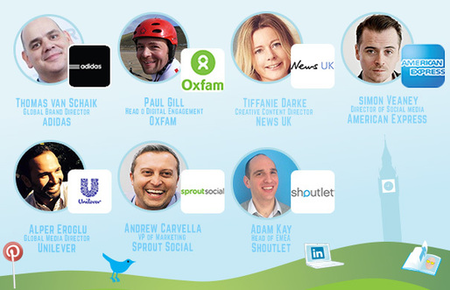 #SMWF 2015 - First speakers announced  (www.socialmedia-forum.com)
Important discount news. Until 20 February  #SMWF are offering a £200 discount on passes for the show – down to £695 for a two day pass and £445 for single days passes. It's hard to think of summer when it's cold, wet and windy but at #SMWF we are already looking ahead with the 2015 European show already booked in for  ....
Starting out as a purely SEO-led agency by Director Thomas Schonenberger and CEO Louis Venter, MediaVision has evolved over the years to become a fully integrated digital marketing agency with offices in London and Cape Town.

Following MediaVision's rebranding in 2013, the boutique agency expanded to incorporate a multifaceted team of Digital PR, Social, SEO and PPC experts. With a 193% rate of growth in the last three years, @MediaVision was recently named by The Drum as one of the most financially prosperous marketing agencies of 2014.

In recent years, MediaVision has helped a host of big-name clients in lifestyle and B2B including British heritage fashion brand Aquascutum who MediaVision assisted with a complete digital relaunch in 2013. Other names on the list include DickiesStore, Instant Offices and Daisy Jewellery.n brand Aquascutum who MediaVision assisted with a complete digital relaunch in 2013. 
With ad:tech London taking place on the 21-22 of October I wanted to send you a reminder to those who are not yet involved or registered to attend.
ad:tech London is the event for modern marketing & media and this year we celebrate our 'Digital Decade' with keynotes from Martin Sorrell, Mondelez, Ryanair, Unilever, BBH, YouTube, Coca-Cola, PepsiCo and Media Entrepreneur Leonard Brody.
Click here to see the conference program Click here to see more about our Keynotes
Click here to see the full seminar program Click here to see full list of participating companies