socialmedia

Social media doesn't switch off, which is why it's a vital part of your integrated marketing campaigns. Follow our five tips for better social integration to see improved results across all channels.
Written by Kelly Smith

This list of the best Google Chrome extensions for social media marketers will save you valuable work time and effort.
Have you ever noticed how much quicker you get distracted online than you used to?
If you do, then you're not alone. According to the U.S. National Library of Medicine, our average attention span has dropped from 12 seconds in 2000 to just 8 seconds in 2013. The most visible consequence of this has been the tendency for publishers to break online content up into ever smaller digestible chunks.
But are attention spans really shrinking in the way we think they are? The popularity of long running, intricately plotted series from the likes of HBO seem to suggest otherwise. The problem instead is one intrinsic to the online space. With online content saturation, it could be that our diminished attention spans have more to do with a growing tendency to be more selective with the content we consume online and to assess what we like and what we don't like far quicker than we used to. [more…]
Five Essential Digital Metrics
Karen Hall from Connecting Element writes .. There's a plethora of digital marketing measures out there, all of which are useful in one way or another – but which are the ones you rely on the most? We've outlined our favourite five across all channels; considering web, email, social media and more. [more…]
Forrester, along with Heidrick & Struggles, found in a survey that nearly 80% of CMOs want to prove their capabilities as business or strategy leaders. To achieve this, making metrics meaningful is crucial.
This requires good and thorough planning. Here are the decisions you'll need to make and what to consider:
Utilities giant Thames Water has brought in content marketing agency @Headstream Headstream to audit its social media activity and build future strategies to improve customer experience.
This initial project involves an analysis of the brand's Twitter channel, focusing on customer service, online sentiment and conversations, benchmarking Thames Water's performance and response rates against other water company's across the UK.
The analysis will help the company gain a better understanding of its social media resource needs, with the ultimate aim of boosting customer experience.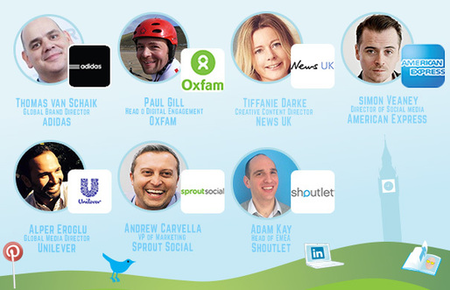 #SMWF 2015 - First speakers announced  (www.socialmedia-forum.com)
Important discount news. Until 20 February  #SMWF are offering a £200 discount on passes for the show – down to £695 for a two day pass and £445 for single days passes. It's hard to think of summer when it's cold, wet and windy but at #SMWF we are already looking ahead with the 2015 European show already booked in for  ....
Fascinating facts about social media that will make you think
#Socialnomics 2014 #Socialnomics 2014 by Erik Qualman is the fifth version of the most watched video series on Social Media. Qualman is a number one best selling author and keynote speaker on digital leadership.