Scotland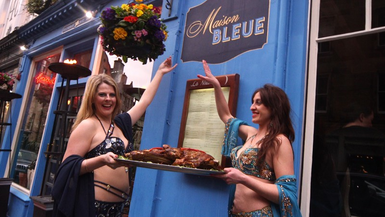 Exotic belly dancers unveil new "Feast" with 24 hour waiting-list.
It's great to see that there is still someone with real enthusiasm who is trying to be innovative and different. (editor). Who else loves belly dancers - I certainly do?
Time Out launches in Edinburgh after the successful launch of Time Out Manchester earlier this month / UI Centr... http://t.co/Sxz3KUDcbl

— Will Corry (@slievemore) October 30, 2014
It's a swarm of Time Outs : After the successful launch of Time Out Manchester earlier this month, Edinburgh is the second of six cities in the nationwide roll-out. This is followed by the launches of Time Out Leeds and Glasgow in November and Bristol and Birmingham in early 2015. Each city will have its own editor, who will curate content from local experts through the launch of an extensive Time Out blogger network.
"Well, if its matching body-con dresses and awkward catwalk behaviour then Ayrshire travel agency Thorne Travel are the chap(ette)s for you.
These gloom-busting wonder women (and man) walk round their local town of Kilwinning sending people on cruises, transforming a random woman into a bride and sending a sulking child to Disneyland."
Want to grab the attention of the Scottish public whilst out canvassing to see which way they plan to vote?

Well look no further as Promotional Products Week (PPW) has created a 'referendum voting highlighter' that will allow the Scottish public to show with ease which way they plan to cast their vote and make political history.
Edinburgh's Whitespace @whitespacers are one of Scotland's leading creative agencies. Their long-standing relationship with the Edinburgh Festival Fringe Society resulted in a striking and energetic unboring identity for the 2014 Edinburgh Festival Fringe.
Via @dandad We spoke to Neil Walker – Senior Creative, Mike Bryant – Senior Designer and Carolyn Gordon – Senior Account Manager, about the creation of this #unboring vibrant work.
Barrhead Travel chief Sharon Munro has been named one of the most influential women in the travel industry in the past 60 years by the Association of Women Travel Executives.
The industry body has unveiled its '60 for 60' shortlist of influential women in the travel industry to mark its 60 anniversary.
Munro has been recognised along with fellow industry leaders such as Harriet Green, chief executive of Thomas Cook; Chris Browne, chief operating officer at TUI Travel; Martha Lane Fox, co-founder of Lastminute.com and Carolyn McCall, chief executive of easyJet. [more…]
We give you the misses from the Commonwealth Games opening ceremony via the Guardian
• In its echo of the reference to Brookside's lesbian kiss in the London 2012 ceremony, the Barrowman kiss made us seem a rather prurient nation
• On the eve of Scotland's referendum on independence, the ceremony resorted to clichés of the Loch Ness monster, Irn Bru and a sea of tartan instead of telling viewers something new
• The overhead shots made it look like a good few ticket-holders had decided to plump for a quiet night in front of the telly instead